Partner With Us
We so appreciate your generous giving!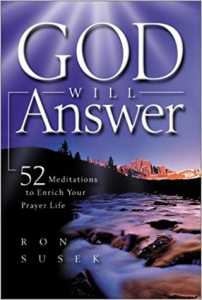 Your gift matters. Why? Because we believe we are entering the end times and as Christians it is our responsibility to share the pure and simple gospel of Jesus Christ far and wide. There is absolutely nothing more important than the Great Commission we were given by Jesus Himself before His ascension. "Go ye, therefore, into all the world and preach the gospel to every creature" (Mark 16:15). Thank you for partnering with us for the glory of our Lord Jesus Christ. We so appreciate you.
OUR GIFT TO YOU FROM "FAITHWALK" …
You'll be encouraged and inspired within the pages of our gift book offer, "God Will Answer" by Dr. Ron Susek. Each week throughout the year, within the pages of this rich, 52 chapter hardcover edition, you will discover compelling spiritual truths and biblical insights—rich content that will enrich your life and challenge your heart to go deeper in your faithwalk with God!
Please make your best gift today and accept your copy of "God Will Answer" as our personal thank you! If you live beyond the USA, we will send you a pdf copy.
All contributions are under the stewardship of the Board of Directors of Susek Evangelistic Association, the mother ministry of our FaithWalk TV/streaming ministry. We are committed to using your gift exclusively for tax exempt purposes for the furtherance of the gospel of Jesus Christ.
To donate by check, please address to SEA MINISTRIES – P.O. Box 3007 Gettysburg, PA 17325 and make your check payable to SEA Ministries/Faithwalk or call Sherrie at 717.337.1170.
Donation To FaithWalk TV

Click to Securely Pay with PayPal or a Credit Card